We all want our homes to sell fast, and for top dollar. After all, it's a lot of work to keep a place showing-ready, and it's only natural to want others to appreciate the place you love. But when a home sits on the market for a while, the stress mounts. And the reasons are almost always the same: Price, Location and Condition.
The Art of Pricing Your Home
However difficult the break may be, there is strong evidence that putting emotion aside when setting your listing price will expose your home to more buyers. If you price your home at just 10% above what analysis of the market says it should be, only 30% of potential buyers will look at your home.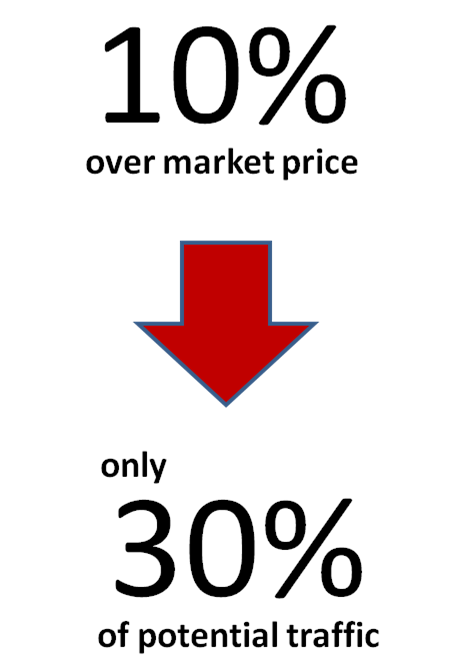 Though rare, there are unique circumstances that would support listing above market price. If in doubt about your final decision, take into account your personal circumstances: Do you have a time deadline to meet? Do you need money from the sale for immediate use? If so, listing at a competitive price is your best chance to get the most "eyes" on your home, and offers a better chance of selling in your desired time frame.
Location
You've heard that in real estate it's all about "Location, Location, Location." That is true, but the appeal of a location is in the eye of the beholder. For example, while many people won't buy a home on a busy road, some prefer living on a busy road because it's walking distance to public transportation and shops. Some families buy a pricier home in a certain school district. Others are willing to forego the school district to get more home for their money.
There are ways to minimize potential shortcomings in your location. First, be creative about detracting attention from any potential negatives. If you overlook a home that's a bit of an eyesore, could you put up a fence and flower pots to block or distract the view? Will an electric water feature help to offset road noise? How much more square footage does your home have than an average home in a more desirable school district?
While there will always be challenges that are difficult to overcome, the key is to be realistic. Factor your location into the price while being sure to emphasize the home's many positives.
Condition

Once you've lived anywhere for a while, it's easy to overlook details that will disappoint potential buyers. Something as simple as spider webs on a front porch can set the tone during a showing. Buyers may question how much you care about the home and how well it was maintained in less visible places.
Remember, as a buyer drives up to your home, they're using a mental calculator to tally up the added cost of making the purchase. Chipped or dirty paint, missing roof tiles and a weedy lawn can stop a showing before it starts. A cluttered home looks smaller and darker, and personal belongings make it hard for buyers to picture the place as their own.
At least a month before putting your home on the market, put yourself in a buyer's shoes. Start from your front yard (or the front door if a condo or townhouse), and walk every inch — all the way to the back yard. Take notes about needed landscaping, painting and repairs.
You may also consider working with a professional stager. For a consultation fee usually ranging from $125 to $250, you'll get the benefit of a fresh perspective plus recommendations for making your home and furnishings work harder for you. Your realtor can help you find resources for staging, painting and repairs.
Learn More

Finding the Right Agent
Preparing to Sell
Deciding to Downsize